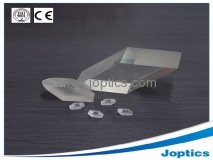 Rhomboid Prism

1, Optical glass 2, Micro and high precision 3, Schott Glass material 4, Customized according to client's drawings 5, Experienced manufacturing technics
As a professional manufacturer for processing, we prefer quote you according to client¡¯s drawings include details. We have more than 10 years manufacturing experience for micro and precision optics, especially in medical endoscope field. Our products are approved by European and USA Clients.
Enterprise Philosophy: Trust, Faithfulness, Mutual Benefit.
Prism Manufacturing Specifications




Commercial

Precision

High Precision

Material

Schott Glass Material for Endoscope

Dimensions

0.2 ¨C 200mm

2 ¨C 150mm

2 ¨C 150mm

Dimensional Tolerance

¡À0.25mm

¡À0.1mm

¡À0.05mm

Beam Deviation

0¡ã¡À10¡± 0¡ã¡À30¡± 0¡ã¡À10¡¯ 0¡ã¡À30¡¯


Flatness

¡Ü¦Ë/10@632.8nm at reflection surface

Surface Quality

60-40

40-20

10-5