Optical Glass Components for Endoscopy Illuminating system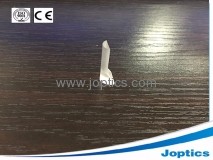 Optical Glass Components for Endoscopy Illuminating system

1, optics glued prism used for endoscope 2, Micro and high precision 3, Optical Glass material 4, Customized according to client's drawings 5, Experienced manufacturing technics
As a professional manufacturer for optical processing, we prefer quote you according to client¡¯s drawings include details.
Micro Prisms in dimensions from 0.3 to 8 mm
typical applications:
endoscopy optics

laser optics

fiber-optical applications

optics for sensors

fiber switch

optical data transmission
This optical component are used for endoscopy illuminating system. It is made of Schott Glass and glued with UV gel.